tabs. From the
creating a new survey


clicking on an existing survey from the

Survey List




or clicking the

General settings & text

icon.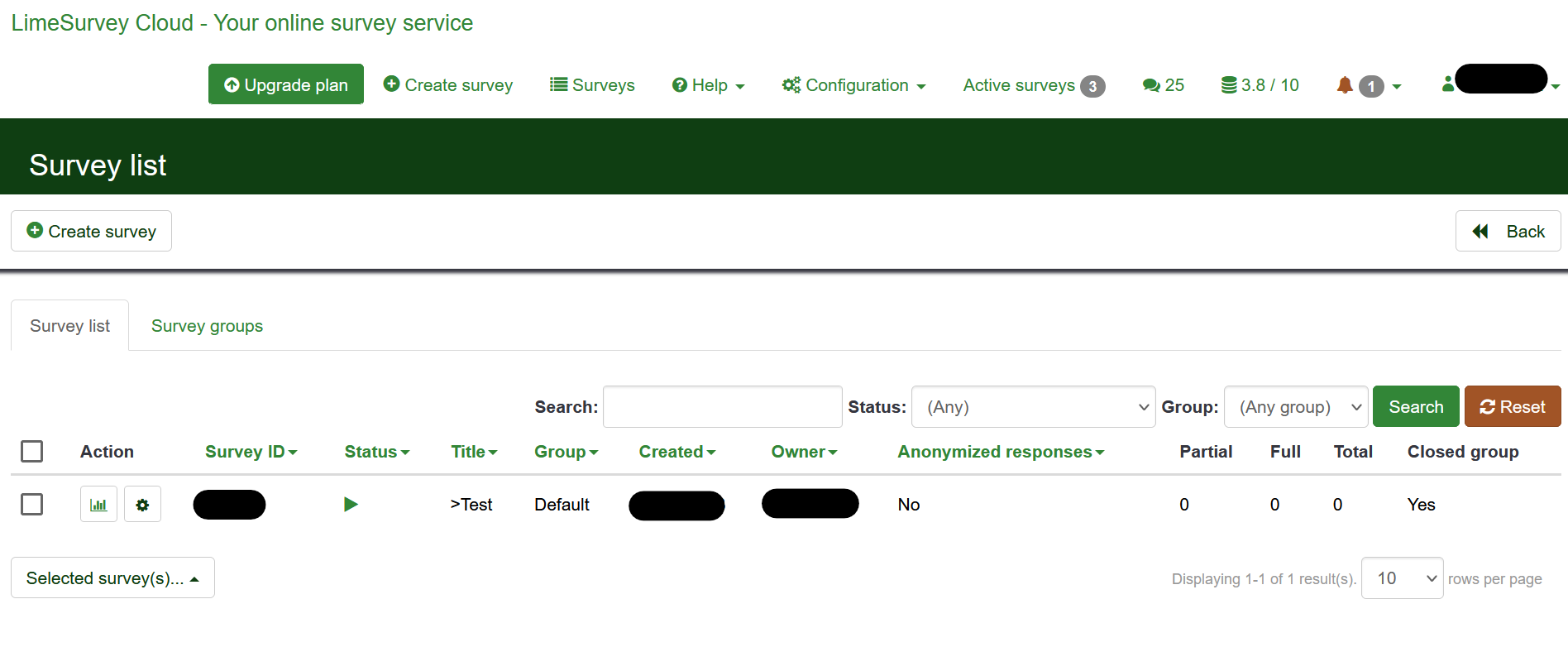 Clicking

+Create new survey

and following the create a survey

steps takes you to the

Survey Structure

tab.


Clicking on an

existing survey

takes you to the

Survey settings

tab.


Clicking the

General settings & text (gearwheel)

icon takes you to

the Survey settings

tab.

Depending on your choice, you will either be directed to the
Survey settings
or
Survey structure
of the
Survey builder
where you can further build your survey.
About the survey settings tab

The settings tab contains (1) the Survey settings and (2) the Survey menu.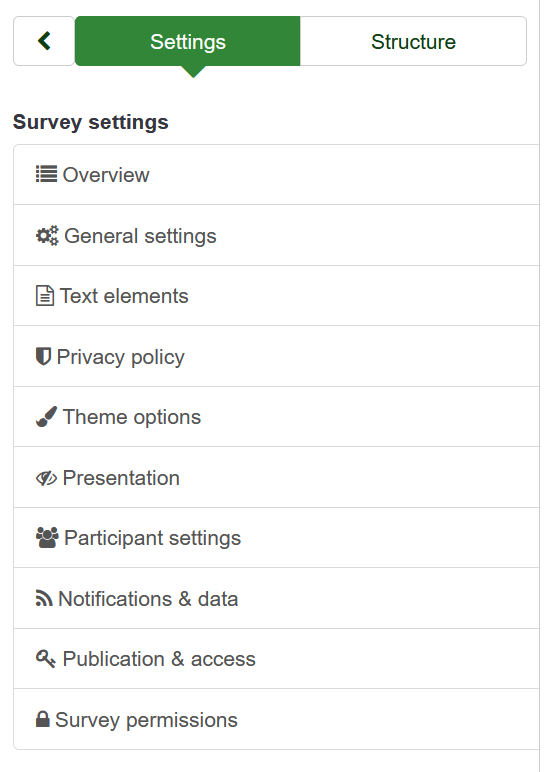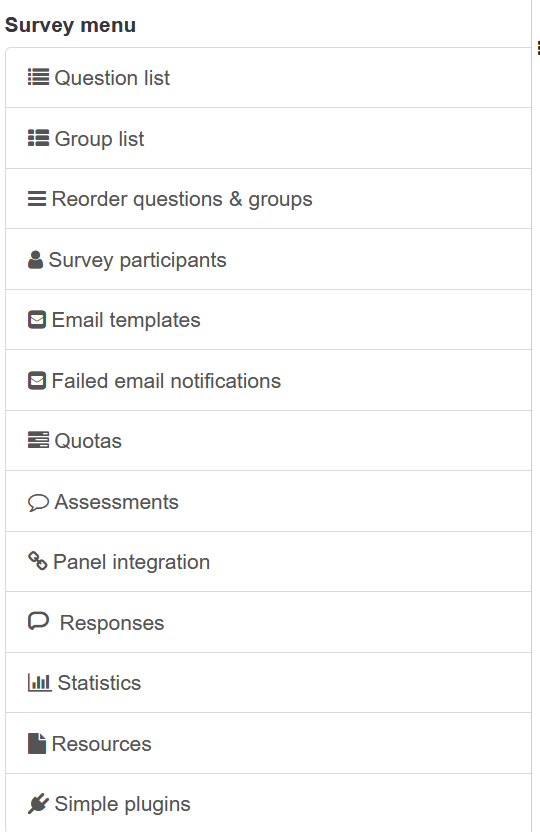 The Survey settings allows users to edit different survey-related settings, such as themes (look and feel) and how the survey is presented to participants.

The

Survey menu deals with the workflow of a

survey, including questions/question groups and inviting/managing survey participants.

About the survey structure tab

The Structure tab displays the structure of the survey: (1)
question groups
and (2)
questions
.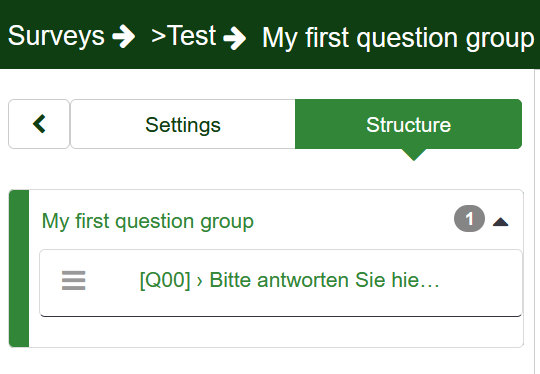 Your survey will be listed on the Survey List page after following the
create a survey
steps
.
Below, all elements of the list are explained in more detail: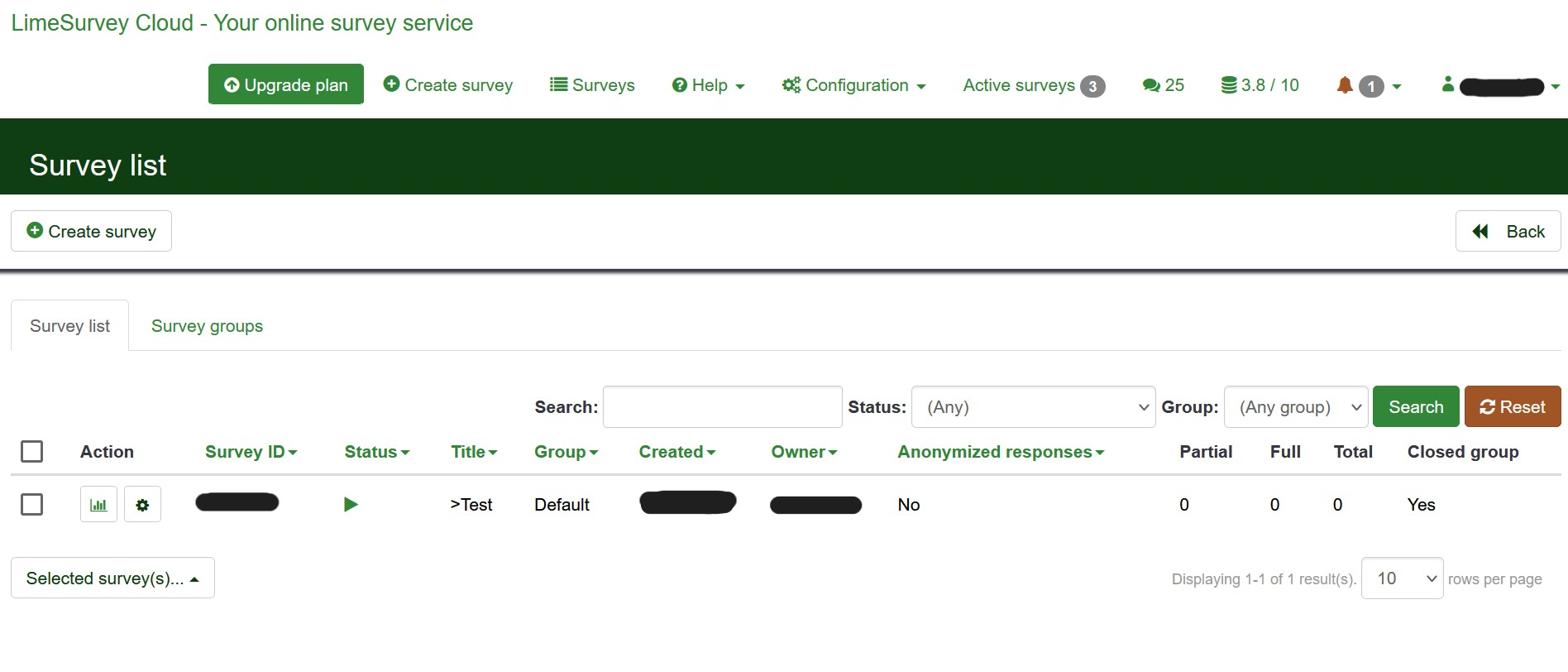 Action

: This column presents the actions that are available for each survey:




Survey ID:

When created, the survey receives a unique ID that is used to make the connection between different LimeSurvey tables in the database.

Status

: Status of available surveys:

active - If this option is selected, all surveys, except inactive surveys, are displayed.

Title

: The title of the survey.

Group

: The survey group that the survey belongs to.

Created

: The date when the survey was created.

Owner

: The name of the user who owns the survey.

Anonymized responses

: This shows whether the responses are anonymized when stored into the database or not.

Partial

: The number of surveys that were partially completed.

Full

: The number of surveys that were fully completed.

Total

: The number of partially and fully completed surveys.

Closed

group: This is either "Yes" (if a Survey Participants table is used) or "No".

You can click the
Survey groups
tab to see a list of survey groups (and by selecting a group, display the surveys that belong to that group).
If you want to search for a specific survey, use the search bar and filter the results via the survey status field (
active, active and running, inactive, active but expired, and active but not yet started
).